Beauty & the Beast Publishing celebrated its first business award in recognition of their contribution to the Black Business Olympics Expo USA Virtual Conference event, July 2022 where they received the Gold Medal Award for Black Business Olympics Speaker, for their keynote presentation on Generational Wealth.
Co-founders S. Lewis-Campbell and Andrew Foster had no idea they had been selected until they received confirmation of the welcoming news. This is a major achievement for their business, and will greatly assist in raising awareness of the positive work they are doing in making a real difference within Black and Brown communities globally.
S. Lewis-Campbell stated "To be recognized for our efforts in this way, makes it even more worthwhile. It feels great to officially be known as an award-winning business at such an auspicious occasion"
We are extremely grateful to everyone at the Black Business Expo USA corporation for the recognition. In particular, Founder Dr. Eric Kelly III and Mr. Grant McGaugh who was also confirmed Black Business Expo committee for the gold medal award for his keynote presentation on Business and Technology at the May 2022 Virtual Conference; Business Partner Mr. Andrew Foster of Beauty & the Beast Publishing who was integral in preparing us for the event, Aileda Lindal, who was responsible for the initial introductions; to all our Global partners, affiliates and the entire team at Beauty & the Beast Publishing. Thank you!
Congratulations to all the other contestants and participants who also took part, we look forward to joining you in September for our second attendance. We highly recommend this event to all Black Businesses around the world. This is an important event that should not be missed. The next Black Business Olympics Expo USA event takes place Sept 19-25, and you are all cordially invited. Let's get behind this fantastic cause, their mission is to provide laptops, computers and scholarships funds for students to go to college. You have a voice, and students and businesses worldwide want to hear it! Don't delay, email erickelly45@gmail.com for further details we hope to see you there.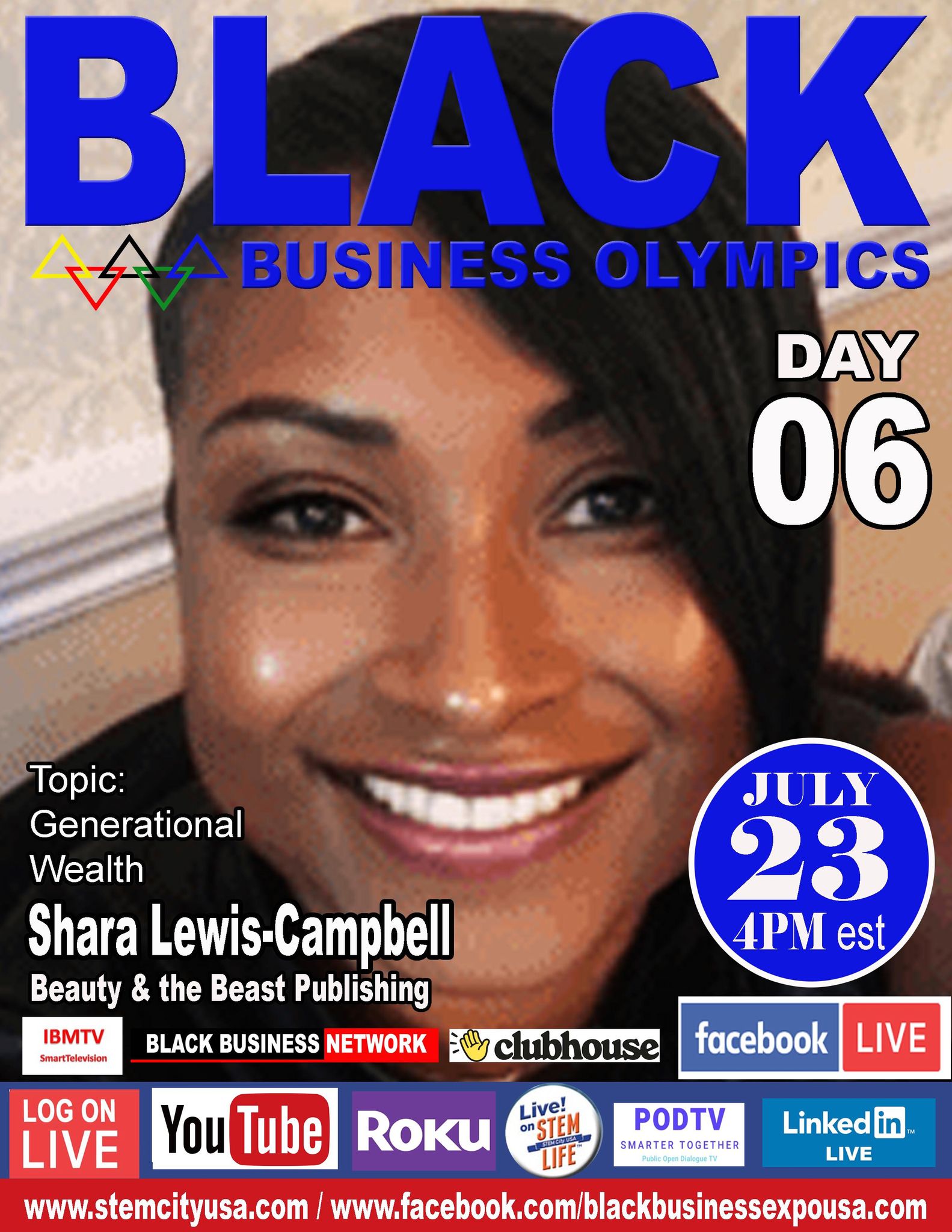 BLACK BUSINESS OLYMPICS EXPO USA 2022 VIRTUAL CONFERENCE | WRITTEN BY S. LEWIS-CAMPBELL | CO-FOUNDER BEAUTY & THE BEAST PUBLISHING